Pioneering initiative to recognise the trajectory of recognised public figures in the world of art and sport and their contribution to the culture and value of Rioja.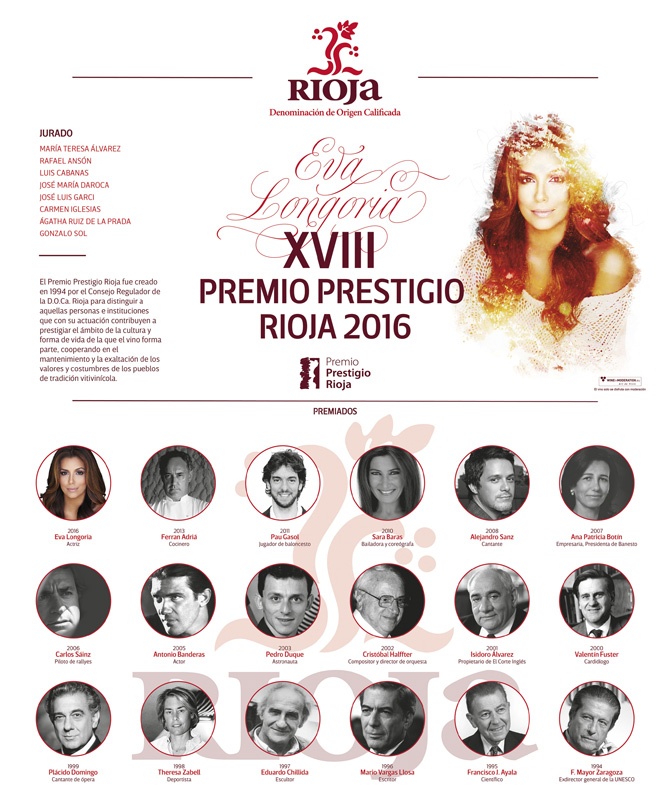 The Rioja Prestige Award was created in 1994 by the Rioja DOCa Regulatory Council and is given each year to people or institutions who in their personal or professional lives contribute to upholding the culture and lifestyle of wine. This is a pioneering initiative in the vinous and cultural arena. The objective of the Award is to encourage in society a positive wave of opinion with respect to cultural and gastronomic topics which make wine healthy and different from other drinks. This is a task taken on by the Rioja Regulatory Council to create a positive image of wine in general.
The Rioja Prestige Award, without any financial donation or formal competition structure, has been given by the Regulatory Council to the following people, who to this date have identified themselves with the objectives of the Awards, without the motivation of self-gain:
Federico Mayor Zaragoza, former director general UNESCO (1994)
Francisco J. Ayala, scientist (1995)
Mario Vargas Llosa, author (1996)
Eduardo Chillida, sculptor (1997)
Theresa Zabell, athlete (1998)
Plácido Domingo, opera singer (1999)
Valentín Fuster, cardiologist (2000)
Isidoro Álvarez, owner or El Corte Inglés (2001)
Cristóbal Halffter, composer and orchestra director (2002)
Pedro Duque, astronaut (2003)
Antonio Banderas, actor (2005)
Carlos Sáinz, rally racing driver (2006)
Ana Patricia Botín, entrepreneur, president of Banesto (2007)
Alejandro Sanz, singer (2008)
Sara Baras, dancer and choreographer (2010)
Pau Gasol, athlete (2011)
Ferran Adrià, chef (2013)
Eva Longoria, actor (2016)
The Rioja Prestige Awards count with the collaboration of the judging panel who all belong to the sectors of culture, science, economy, and communications.
Ágata Ruiz de la Prada, fashion designer.
Carmen Iglesias, academic of History and Language.
José Luis Garci, filmmaker.
Mª Teresa Álvarez, journalist and author.
Rafael Ansón, president of the International Academy of Gastronomy
Luis Cabanas, financier and professional jockey
Food journalist and president of the Rioja DOCa Regulatory Council, Gonzalo Sol, also forms part of the judging panel.
Previously, other judging panel members include Eduardo Arroyo, Adrián Piera, Camilo José Cela, Antonio Mingote, Sabino Fernández Campo, Francisco Grande Covián, Angel Martín Municio, Juan Antonio Samaranch and Horacio Sáenz Guerrero.