Turn to Rioja Wines this Fall!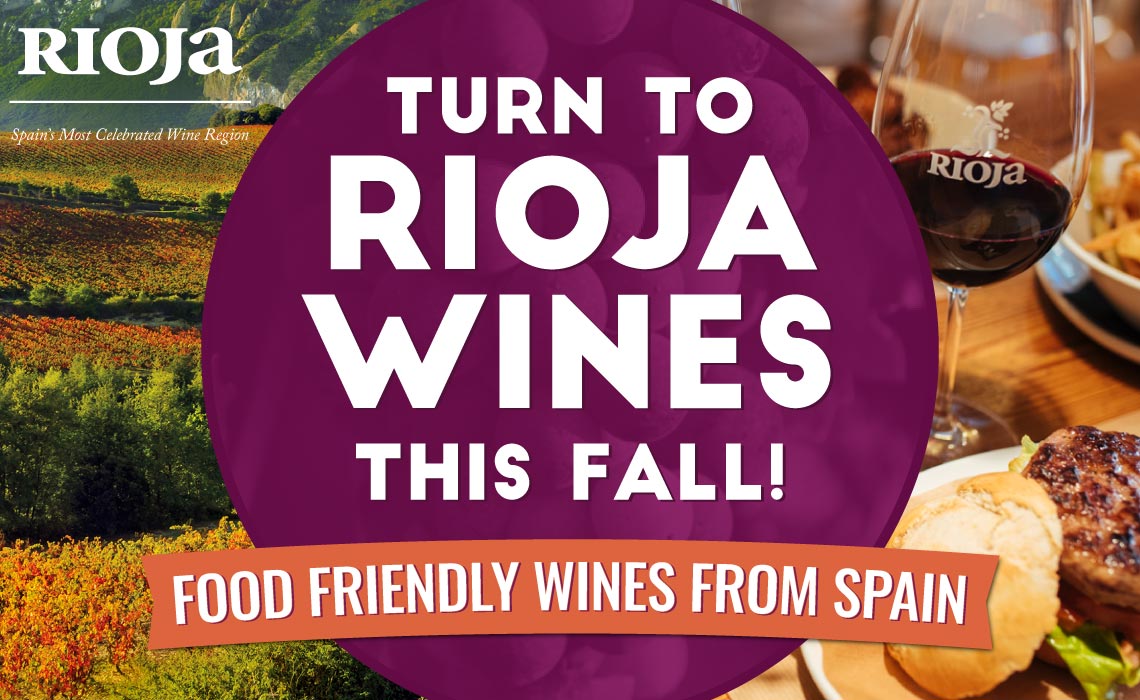 Known for some of the most food-friendly wines in the world, Rioja wines are perfect when you want that restaurant quality food-and-wine experience – at home! A well balanced and versatile grape, Tempranillo is Rioja Spain's hallmark grape. Tempranillo Reservas and Gran Reservas bring out the best in savory meals like grilled steaks or lamb chops while lightly chilled young reds like Crianzas or Genericos pair well with simple pastas with light sauces. Rosé wines are the perfect choice for any get together, pairing well with salads and charcuterie.
Rioja Whites made from the Viura grape provide perfect acidity for any seafood dish.Located in North Central Spain, Rioja was the first officially recognized wine in Spain and is home to her most prestigious wines. Rioja's beauty and bounty have drawn master chefs, writers and designers there for decades. There are over 600 wineries in Rioja, offering a style for every wine lover – from fresh and juicy whites, to crisp rosés, to complex, barrel-aged red wines. These wines are famous throughout the world for their quality, complexity, elegance, and particularly for their excellent aging potential. Visit riojawine.com to learn more.
Try a few of these food pairing suggestions at home with Rioja. You can find these wines here!
RESERVA + GRAN RESERVAS: A perfect gift for the hosts! Try this with bone-in ribeye, roasted chicken or brisket, or savory Autumn weather stews.
CRIANZA: Rioja's perfect everyday wine. Pair with burgers, grilled vegetables, pasta with light sauces and grilled salmon.
GENERICOS: Young & fresh, this wine drinks nicely on its own and pairs well with a Zoom Happy Hour! Try these wines with a charcuterie board and salads.
ROSÉ: This year's perfect Thanksgiving pairing wine! A fresh and flavorful foil for the myriad of dishes and sides!
BLANCO: Sip while you cook or try with grilled chicken, roasted beet & goat cheese salad and halibut with black pepper and lemon.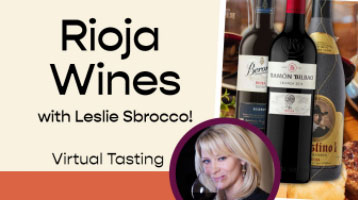 RIOJA WINES WITH LESLIE SBROCCO!.
Wednesday, October 21st | 7pm & 7:30pm.
Leslie Sbrocco is an Emmy and James Beard Award-winning wine and spirits expert, speaker, and on-camera host. Celebrate Rioja Month with Leslie and Binny's! The red wines of Rioja are perfect for fall weather and holiday meal pairings! Join us for a glass or three!.
DRINK ALONG: Ramon Bilbao Crianza 2016  |  Beronia Rioja Reserva 2015  |  Faustino I Gran Reserva 2009