Rioja revamps its website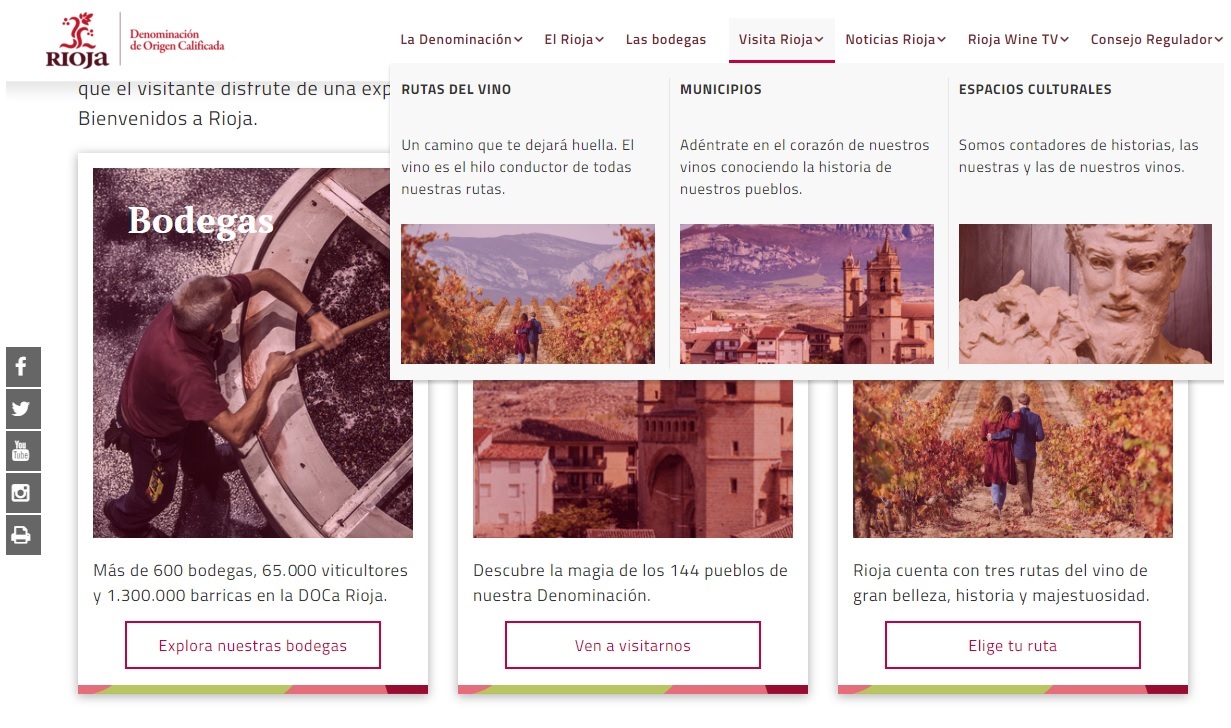 The DOCa Rioja has revamped its website, expanding the available information and putting an emphasis on content produced in-house through a much more visual and intuitive format.
Highlights include the latest Rioja-related news and enhanced promotion of Rioja wineries, as well as a complete section featuring the most important wine tourism information in the region.
Currently immersed in the process of promoting its new global brand message Saber Quién Eres, Rioja has revamped its website by expanding the information that has been featured on the Control Board's website since its launch in 2007. It is also promoting the content produced in-house by means of a more visual, simple, modern and intuitive format that adapts to all kinds of mobile devices.
The brand is maintaining its usual domain name (riojawine.com) while offering a simpler and more intuitive browsing experience, where the content produced in-house rounds off the information provided under each tab: The Designation, Rioja Wine, Wineries, Visit Rioja, News, Rioja Wine TV and Control Board. Users will find new maps, infographics, videos and photos that provide an even more attractive overview of the region's history and characteristics.
The Rioja site not only highlights the latest news but also provides a detailed listing of the municipalities and wineries that make up the Designation of Origin, as well as a complete section containing all the most important wine-related tourism information on the region. Rioja Wine TV, the Designation of Origin's own TV channel, will provide a series of short video clips revealing the personal stories of the true protagonists behind the scenes in Rioja.
As a new feature, the website offers a complete listing of municipalities and wineries and a dedicated section for registered wineries and grape growers where they will be able to find all the latest information on legislative matters as well as direct access to downloads of key documents for their day-to-day administrative needs or different promotional activities.
Flat 101 and JIG were the companies chosen to develop and implement the new website. According to Ricardo Aguiriano, Control Board marketing manager, "this new communication tool is geared towards providing accurate information for trade professionals and educating consumers with content that makes it easy to learn about the realities of the Region, putting an emphasis on certification and control processes, the diversity of wineries and wines, and the range of wine-related tourism attractions. The new look and feel of the site showcases Rioja as a vibrant, authentic and transparent region, all values that are consistent with the new global brand message."